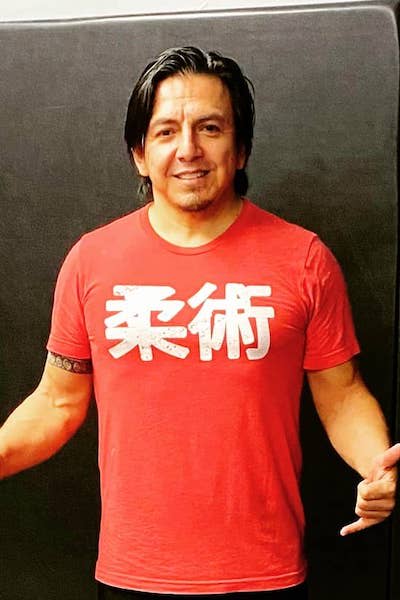 Professor Steve
Steve began his Brazilian Jiu Jitsu path in 2000 with the famous Machado Brothers Rigan and Roger Machado. Receiveing His Blue Belt form Roger Machado. He then moved to Sherman Oaks and began training at the only Gracie Barra gym in southern Cali. The Culver City Gracie Barra under professor Gerson Sanginitto. He waould receive his Purple Belt from Gerson Sanginitto and and Brown belt in 2007. Steve had the pleasure of meeting Professor Rubens"Cobrinha" Charles in 2010 and studied with Cobrinha till the end of 2013.
August 9, 2017 Steve receives his Black Belt from Professor Alberto Crane after training for 17 years.
Steve is a Brown Belt in 10th Planet Jiu Jitsu under Professor Alder Hample!
Sensei Steve began his journey in Kenpo Karate 1993. He was lucky enough to meet Mr. Larry Tatum and began training in American Kenpo Karate. He would eventually trian under some amazing Kenpo practitoners. Scott Higgins, Brye Cooper, Juan Serrano, Cliff Seminario and the Rick Jeffcoat who gave him his first Black Belt. Sensei Steve in currently a 6th Black in American Kenpo.
Steve began studying Cabales Serrada Eskrima in 2004 under Guro Khali Khan and is a Guro in Cabales Serrada under Khali Khan.
Steve began his studies in Valencia LAMECO in 2004 under Guro Felix Valencia and is a Level 2 Instructor in Valencia LAMECO.
In 2005 Steve began training in FCS Kali with Guro Rich Verdejo and is a Level 3 Group leader.
In 2022 Steve became a level 4 Krav Maga instructor under John Whitman. We are also the only Alliance Krav Maga affiliate in the San Fernando Valley!
Steve is a certified Box n' Burn Level 3 instructor under Tony Jeffries and Glen Holmes.